Combining
Small Town Caring
with a
Sports Medicine Approach
for over 30 years!
Because everyone has a body (that's you!), and needs some level of ability to perform…from the high performance athlete, to the patient who's currently barely getting along, Dr. Fritzke uses a Sports Medicine approach to reduce pain and improve function. In a very real way, we're all athletes.
Using a level of caring common to a small community, and coupling it with some of the highly effective principles of Sports Medicine, thousands of patients have been helped to do the activities in life they want, without pain, and with increased mobility and strength.
For over 30 years, Dr. Fritzke has been successfully helping his patients get out of pain, and live life as fully as possible. We're confident we can help you too. Call us at (530) 926-3458.
Our Services
If you're looking for comfortable, effective back pain relief in the Mount Shasta area, you've come to the right place! Are you suffering from back pain, neck pain, shoulder pain, headaches, or pinched nerves?
We can help! We put our patients first. We listen to you and help you heal.
In fact, we have a Satisfaction Guarantee policy! If you're not satisfied with how you're treated in our office, let us know before you leave and the visit for that day is free of charge.
Of course, we aren't able to guarantee results, since everyone's condition is different. But we are guaranteeing that you'll be listened to, will be treated with respect, and that we'll deliver everything we're capable of to help you with your problem…including a referral to another doctor if needed.
We specialize in…
Sports injuries
Low-back pain
Neck pain
Shoulder pain
Headaches
Sciatic nerve pain
Arthritis pain
Pinched nerves
Whiplash
Auto injuries
About Dr. Fritzke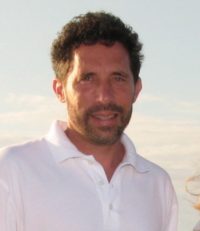 Dr. Fritzke has been serving Siskiyou County for over 30 years after graduating with honors from Palmer-West Chiropractic College in 1985.
At the time of graduation, he'd just finished a career in distance running that ended with his participation in the 1984 Olympic Trials Marathon in Buffalo, New York.
Even before graduating from Chiropractic College his classmates singled him out to travel to Los Angeles for many weekends to learn from one of the leading Sports Chiropractic Doctors at the time. He then came back to his college to teach his classmates the latest Sports Medicine techniques. His involvement in Sports Medicine began before it enjoyed the popularity it does today.
Since that time, he's kept abreast of the most recent advances in Chiropractic care and Sports Medicine. He has served as the Sports Medicine Chiropractor at the College Of The Siskiyous.
Involvement in athletics included helping coach his son and daughter to become the first siblings in California history to win individual California State Championships in the same year when they both won their races at the 2004 State Cross Country Meet in Fresno, California.
FAQs
Yes, we can bill any insurance company. 

Yes, the activator technique is available for patients that prefer non-force adjustment.

We can usually schedule call-in patients the same day. Please contact us at your earliest convenience. 

We work closely with a few physicians in the area and would be happy to refer you to one of them.

Yes, both Visa and MasterCard are accepted.
Your question is not here?
Office Hours
Mon       
8:00am – 5:00pm
 
Tues
8:00am – noon
 
Wed
8:00am – 5:00pm
 
Thu
8:00am – 5:00pm
 
Fri
by appointment
 
Sat
closed
 
Sun
closed
Address
618 N. Mount Shasta Blvd.
Mount Shasta, CA, 96067
(530) 926-3458